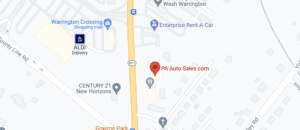 PA Auto Sales – Warrington
35 Easton Rd
Warrington, PA 18976
Shop Inventory >
Phone Numbers:
Sales: 267-483-5381
Service: 267-483-5381
Fax: 215-689-3555
Hours:
Mon – Fri 9:00 AM – 7:00 PM
Sat 9:00 AM – 7:00 PM
Sun Closed For Family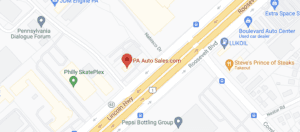 PA Auto Sales – Philadelphia
11600 Roosevelt Blvd
Philadelphia, PA 19116
Shop Inventory >
Phone Numbers:
Sales: 215-330-0539
Service: 215-259-7500
Fax: 267-686-4100
Hours:
Mon – Fri 9:00 AM – 8:00 PM
Sat 9:00 AM – 8:00 PM
Sun Closed For Family
How Can We Help You?
At PA Auto Sales we believe that a great customer experience starts with world class customer service. That is why we are dedicated to answering any questions or queries that you may have in a timely and courteous manner. Here at PA Auto Sales, we love to hear from all of our valued customers. Whether you would like to arrange a test drive, schedule an appointment with one of our sales experts, or just want to say hello, we will always be here to listen and assist you.
While all of our staff members at PA Auto Sales are well-trained and highly-skilled, we want to make sure that you get to speak to the person who is best able to assist you with your needs. To be sure that you talk to the correct department, simply follow the instructions below:
To speak with our sales team to learn more about our vast inventory and arrange a test drive, click here or call 215-330-0539. To discuss the financing options that are available to you, get in touch with our finance team by calling 215-330-0539. For a quick value your trade and fair cash offer on your current vehicle, you can contact our vehicle purchasing team by calling 215-330-0539.
If you aren't quite sure who you need to speak to, our customer service team will be happy to assist you – just call 215-330-0539.
Of course, we don't just help you from a distance. We always love to see our customers pop in to visit us in-person at our dealership. If you would like to drop by for a chat, just head to 11600 Roosevelt Blvd, Philadelphia, PA 19116. We'll be sure to leave some snacks and beverages out for you!
We look forward to seeing you soon at our dealerships!


Looking for more to do? You can learn more about:
About Us Car Financing Why Buy Here Shop Inventory Find Vehicles Shop from home
Shop cars in Philadelphia Shop cars in Warrington Schedule a Test Drive Schedule Service