Value Your Trade

A Used Vehicle Trade-in Has Never Been Easier Thanks to PA Auto Sales!
We Will Buy Your Car!
If you're looking to trade in your automobile for cash, PA Auto Sales will inspect your current vehicle and make you a cash offer you can't refuse right away. We'll buy used cars from our Northeast Philly customers, pay top dollar for your car, and make sure you drive away from a trade-in deal with a happy camper.
Get an honest quote, on the fly, with zero gimmicks or time-wasting tactics. But that's not all you get when you drive your old car into a PA Auto Sales dealership for a vehicle trade-in.
Top Quality Selection
PA Auto Sales is the only dealership in town where you can find a plethora of high-quality vehicles that are fully loaded, with add-ons. Since vehicle technology and durability have greatly improved over the years, you can easily find a car that suits your personal taste.
Our well of inventory never runs dry!
But don't take our word for it. Visit our website today or better still, stop by our dealership to find out more about your options. Get Directions
Huge Selection of Low Mileage Options
If you're looking for a used vehicle that's crossed the 100,000-mile mark or one that's low-mileage used, you are sure to find it in our inventory. PA Auto Sales offers its customers the best selection of low mileage options that are still worth a bit more – and a lot more than their sticker price in many cases. We're not kidding when we say our vehicles are an absolute steal!
More One-Owner Vehicles
To make sure we offer our clients the best value in town, we have added more one-owner vehicles to our inventory than other dealerships, so you have a choice of vehicles options that aren't too long in the tooth.
100% Carfax Report on All Vehicles
Buy a (used) car with confidence with our trade-in option. All vehicles in our inventory come along with a 100 Carfax report to ensure the vehicle you choose offers the best bang for your buck.
We Take Care of the Title and Paperwork
We know you're busy. This is why we take care of all the documentation for you. All you have to do is get a quote for your current vehicle, choose one from our premium quality used options and sign on the dotted line, and we'll take care of the rest. Our associates will be with you every step of the way to make the process as simple and straightforward as possible so that you drive off our dealership the proud owner of an almost-new car in no time.
Full Safety Inspection and Recondition
We care enough not to make you drive home in a melon. This is why each and every car in the parking lot of our dealership has been fully inspected and reconditioned (where required) by the best auto technicians in town. So, you can rest assured that the car you choose during the trade-in process is going to be in great working condition.
Don't Have a Clue What Your Vehicle Worth? We Do!
We provide an online estimate calculator of what your vehicle is worth. This calculator is user-friendly and easy to use, but even more importantly, it will get you an idea of your vehicle's worth in a matter of seconds. This calculator will consider multiple factors, such as mileage, mechanical condition, condition of the exterior and interior, features, and market landscape, in order to come up with a realistic estimate for a car's trade-in worth.
Upon receiving the trade-in estimate, customers can then bring their cars over for an appraisal. During the appraisal phase, the experts at PA Auto Sales will conduct a thorough examination of the vehicle to determine if it is suitable for the dealership's inventory of trade-in cars. If that is the case, the customer will be given an offer, which can either be accepted as-is or negotiated. If and when the two parties agree on a common price, the agreement shall be finalized.
Trade-in Your Car for a Cheaper One
Customers can also trade their cars in for cheaper ones upgrade to a newer, safer, and more reliable vehicle today. If a customer's car is worth more than the amount of money that they owe on it, PA Auto Sales will purchase the car as a trade-in, pay off the loan, and use the remaining money as equity for the customer's new car loan. Naturally, if the customer does not owe any money on their current vehicle, they are the sole owner of the car and are free to trade it in for a cheaper one if they want to. Now, that's a sweet deal!
Value Your Trade-In: FAQs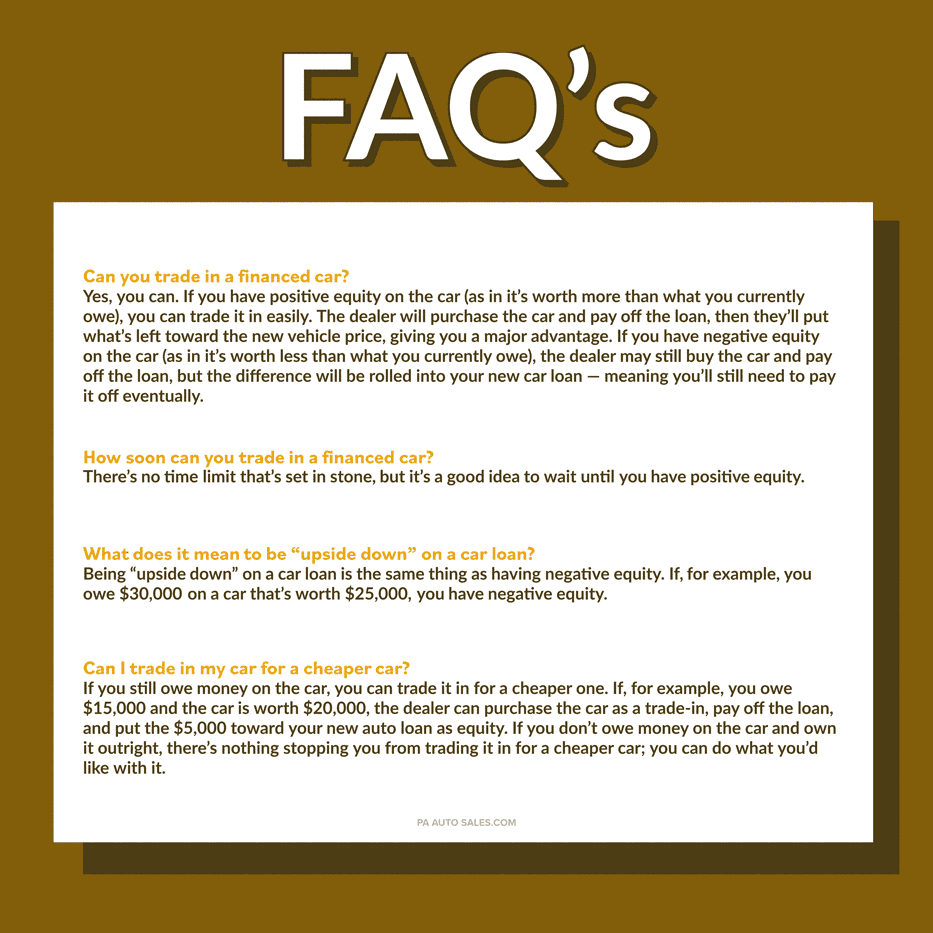 Contact Us Today
If you have questions about how to trade in a car that is paid off or how to get the best possible offer, don't hesitate to contact us online or give us a call at 215-330-0539. While you're here, be sure to browse our current new and pre-owned car specials to start shopping for your next great offer near Roosevelt Boulevard!